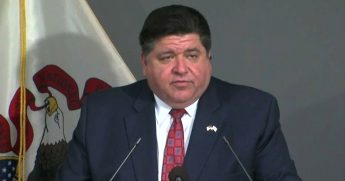 Pay attention. The border crisis is so nefarious. Democrat run states are lining up to support the masses of illegal immigrants Biden is allowing to pour into our country for what can only be the purpose of attempting to permanently change the electorate by providing protections and a path to stay forever.
The plan is simple, bring them in, give them a work permit and then punish businesses that do not want to hire them. Additionally cut off all local ties to ICE and push Congress to enact a path to citizenship and deposit them in red states with the hopes of turning them blue forever.
Illinois jumped on board last week as Gov. J.B. Pritzker signed a series of laws designed to force businesses to give jobs to illegal immigrants, tie the hands of law enforcement and other agencies by ending their relationships with ICE and set up task force to enforce the insanity with the stated purpose of making Illinois the "most welcoming state" to immigrants.
There is not doubt Illinois Governor JB Pritzker achieved his goal when he signed four bills, HB 121, SB 667, SB 1596 and SB 2665, into law August 4.
According to his press release, the bills are "legislation expanding protections for immigrant and refugee communities and further establishing Illinois as the most welcoming state in the nation. The new laws strengthen the TRUST Act and make Illinois the second state in the nation to require local officials to end partnerships with ICE, address hate crimes against immigrant communities, expand workplace protections for Deferred Action for Childhood Arrivals (DACA) recipients, and create the Illinois Immigration Impact Task Force to ensure state programs and policies best serve immigrant residents."
HB 121 adds a new definition for "work authorization status" to Illinois Human Rights Act making it a civil rights violation for employers to "refuse to hire, segregate, or engage in harassment on the basis of work authorization status." Essentially, any business who chooses not to hire an illegal immigrant who has been issued a work permit by the federal government is at risk of penalty.
SB 667 adds to the Illinois TRUST Act and the Voices of Immigrant Communities Empowering Survivors (VOICES) Act preventing local governments and law enforcement from inquiring about citizenship and engaging with ICE. Specifically, the new law:
Provides clarity around action that law enforcement officials can and cannot take around warrants.
Prohibits state or local governments from signing contracts with the federal government to unjustly detain immigrants.
Places limitations on local enforcement of discriminatory practices by prohibiting officials from inquiring about the citizenship or immigration status of an individual in custody unless they're presented with a federal criminal warrant, or otherwise required by federal law.
Increases transparency by requiring state and local law enforcement agencies to submit annual reports regarding requests from the U.S. Department of Homeland Security.
Authorizes the Attorney General to conduct investigations into violation of the Illinois TRUST Act.
This law basically eradicates ICE from the State of Illinois and makes immigration status a completely mute point. Of course those representing illegal immigrants applaud the law.
"Ending ICE detention in Illinois will protect immigrant communities from the deportation machine. Now, it's time to pass the baton from Illinois to D.C., where President Biden and Congress must take the next step by reining in ICE and passing a pathway to citizenship now," said Lawrence Benito, Executive Director of the Illinois Coalition for Immigrant and Refugee Rights.
The Governor and certainly the Biden administration are beyond pleased with these new laws.
"Throughout my governorship I've directed my administration to adopt policies that make Illinois a welcoming state for immigrants, and I'm proud to sign these accountability measures into law to advance our cause," said Pritzker.
This builds on the laws the Governor previously signed banning the establishment of private, for-profit immigrant detention centers and preventing landlords from using a tenant's immigration status against them. He also provided illegal immigrant students with state financial aid.
If other states jump on board, you can be sure America will never be the same again.