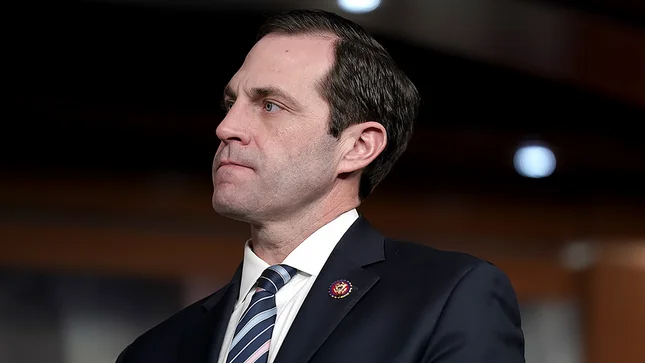 Rep. Jason Crow (D-Colo.) on Sunday said Republicans' fear of former President Trump and their desire for power are "overriding" their patriotism "to do what's necessary for the good of the country."
When asked by host Chuck Todd on NBC's "Meet the Press" if bipartisanship is "dead on any issue" after Congress could not agree to an independent commission to probe the Jan. 6 attack on the Capitol, Crow said it is "depressing" that some Republicans will not "do what's necessary for the good of the country" because of the influence of fear and power.
"You know, I am an optimist by nature," Crow said. "But that's being strained right now because, you know, the impact of fear, the fear of Donald Trump, and the impact of power, the desire for power, by certain elements in the GOP is overriding, you know, that patriotism, that desire to do what's necessary for the good of the country, and it's, frankly, very depressing," Crow said.
Crow highlighted House Minority Leader Kevin McCarthy's (R-Calif.) contrasting comments regarding Trump's role in the insurrection.
"I remember, actually, very specifically, hours after we had retaken the Capitol and gone in and recertified the election, Kevin McCarthy gets up on the House floor, and we were all sitting there on the House floor. There was still the smell of tear gas and broken glass all over, and he gave this speech about how people held the breach against the mob and made sure that the House chamber hadn't been taken. He actually called me out by name and several other members," Crow said.
"Then you fast-forward a couple of months, and it really wasn't a big deal. It's all about politics," he added.
A week after the insurrection, McCarthy said Trump was responsible for the attack. Weeks later, however, he reversed course, saying the former president did not "provoke" the riot.
Senate Republicans on Friday blocked legislation to establish an independent commission to investigate the Jan. 6 attack on the Capitol in a 54-35 vote.
Only six GOP senators joined Democrats in supporting the legislation: Sens. Lisa Murkowski (Alaska), Mitt Romney (Utah), Susan Collins (Maine), Bill Cassidy (La.), Rob Portman (Ohio) and Ben Sasse (Neb.).
Sen. Pat Toomey (R-Pa.) missed the vote because of a family commitment, but a spokesperson from his office said he would have supported the legislation "with the expectation that the Senate would consider and Sen. Toomey would have supported" GOP amendments.
Even with Toomey, however, the bill did not have the support of the 10 GOP senators needed to advance.
Via The Hill