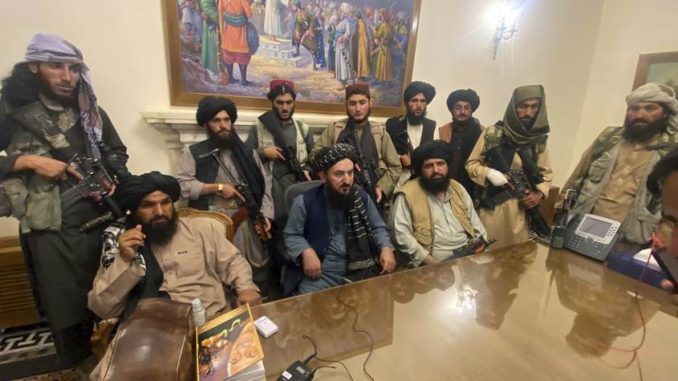 Most of the news coming out of Afghanistan is bad but there is a glimmer of hope being reported from the northern part of the country. Girls are going to school in Mazar-i-Sharif. The Taliban has issued orders that girls stay home while boys attend school. That order is being ignored in Mazar-i-Sharif.
Why Mazar-i-Sharif? It is likely because the city is a more modern one, by Afghan standards than in other areas. Rural areas are conservative while an area like Mazar-i-Sharif, which is considered a regional hub, has modernized. It is in close proximity to both Uzbekistan and Tajikistan. Mazar-i-Sharif has an international airport. The schoolgirls are following orders from the Taliban and covering up with hijabs and scarves, as well as gloves on their hands. Some Afghan girls consider it
a small price
 to pay for being allowed to get an education.
Maryam, a 15-year-old in the 10th grade from Mazar-i-Sharif, said she had been going to school without interruption, despite strict clothing requirements imposed by the Taliban. She wanted to continue studying and hoped one day to become a doctor.

"We were told by the Taliban several times to wear a hijab, wear a scarf, that only our eyes should be visible and we should even wear gloves," she said by telephone.

"These restrictions have made some girls lose interest, but still we girls are happy that at least we are going to school."

Local residents in Mazar say girls have been able to go to school, and one ex-official of the interior ministry under the former Western-backed government said he had visited several high schools for girls and seen them functioning normally.

"All girls of all age types were allowed to go to their classes," he said.
The education of girls and young women was one success achieved during America's 20-year war in Afghanistan. School-age girls in Afghanistan have grown up with the opportunity for an education, only to see the country revert back to more restrictive times when the Taliban took control of the country in August. One of the first things the Taliban leadership did was remove women from the workplace and girls from school. In recent years, access to education for girls in Taliban-controlled areas varied. It was dependent on the decisions made by local commanders and the influence of local communities. UNICEF, the United Nations' children agency, struck an agreement with the Taliban last year. The agreement created informal community-based classes for both boys and girls in Taliban-heavy areas.
Most girls are stuck at home with their only hope being homeschooling. Boys are allowed to attend school through high school. In northern Afghanistan, efforts are being made to keep girls in school.
Zabihullah Noorani, head of the culture and information directorate in the northern province of Balkh, said lessons in many schools were continuing for both boys and girls.

"In places where schools are open, they are open, no obstacle or barrier to them," he said. "Here, there is no obstacle or barrier for girls' education.

"My view and the views of all other Islamic Emirate officials and leadership is that our women sisters have the right to study just like men," he said, using the term employed by the Taliban for their government.
The Taliban deny that girls are being denied an education but since they took control of the country, little has changed from their initial clampdown on girls and women. U.N. Secretary-General Guterres advocates for the Taliban to keep its promises to treat women better than before when the Taliban controlled Afghanistan. However, there are few signs of a Taliban 2.0 on the horizon. Mostly the push is on western countries – especially the U.S. – to give financial aid to help Afghans get through the coming months. Guterres makes the point that economic success includes the participation of women. Afghanistan's economy has been kept afloat for twenty years, thanks to American taxpayers and other western nations.
Guterres, speaking to reporters at U.N. headquarters, also accused the Taliban of breaking promises they made after seizing power in August to uphold the rights of women and girls, including allowing girls to attend school.

"Broken promises lead to broken dreams for the women and girls of Afghanistan," Guterres said, asserting there "is no way" to heal the economy if the Taliban continue barring women from working.
This is a little hope for girls in Mazar-i-Sharif to counter the despair felt by others throughout the majority of the country. The damage done to the lives of the next generation of women in Afghanistan, thanks to Joe Biden handing the Taliban the keys to the country's government, will be felt for decades to come.
Via      Hot Air