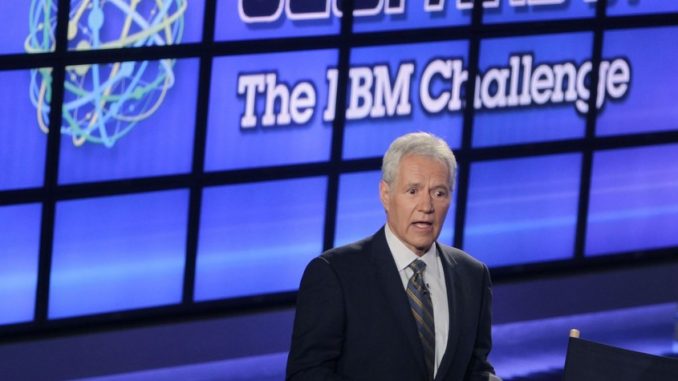 The current champ on Jeopardy! has racked up $483,000 in winnings so far. That makes her the fifth-highest winning contestant after 12 consecutive wins, as of yesterday. Ken Jennings made that announcement at the end of yesterday's show. Everyone applauded and here at my home, we noted her success. Then, today, I discover she's gone political. Why, oh why, does this have to keep happening?
Jennings is the current guest host of the show as the executives try to find a permanent host. I've written about this kerfuffle in past posts. Jennings re-tweeted a Jeopardy tweet noting Amy Schneider's single-game top earnings. He previously tweeted out how well she's doing on the show.
$61,800! 🎉That's Amy Schneider's new personal best for single-day earnings! And she's now 5th in highest winnings (regular-season play)! pic.twitter.com/N0tYccx3vD

— Jeopardy! (@Jeopardy) December 3, 2021
I was going to do a post on Mayim Bialik, also a guest host on Jeopardy! and the schedule announced for her new show, Jeopardy! National College Championship as an end-of-the-week palate cleanser. While checking around for any of the latest information on the story, I came across stories on Schneider's insertion of politics into her fifteen minutes of fame. I mean, I knew she was gay because she said so and noted that the string of pearls she wears is a gift from her girlfriend. However, I failed to catch on to the fact that she's transgender. She is the first transgender woman to qualify for Jeopardy! Tournament of Champions. She lives in Oakland, California but she's a native of Ohio. Rep. Tim Ryan, running for the seat left vacant when Senator Rob Portman announced his retirement, offered encouragement to her on Twitter. She thanked him and that's when this blew up.
Thanks! To any followers in Ohio, next year remember that, no matter who the Republican candidate is, one of their goals in office will be to make life harder for me personally. Don't give them the chance! https://t.co/gYSGY1KeIa

— Amy Schneider (@Jeopardamy) December 2, 2021
When one show fan bemoaned the fact that she went political when she could have just said thank you, she blamed the GOP for making her life miserable.
To anyone else who feels this way: I would be *delighted* for my existence to not be a political issue. But as the GOP won't give me that option, please direct your complaints to them, thanks! https://t.co/Tea0Hr54mg

— Amy Schneider (@Jeopardamy) December 2, 2021
It's just a shame when someone in the spotlight for non-political reasons feels the need to take advantage of an audience and deliver hot takes on politics. Not all of the loyal fans of the show are wrapped up in political idealogy or philosophy. C'mon. Can't we just enjoy a game? As I mentioned before, my household tune in as we eat dinner together, taped earlier in the day because it is something we can all enjoy. Those of us under this roof are not all of the same political party. That's the point. Jeopardy! is a rare show that brings people together. What's next? Wheel of Fortune going the same way next?
The Washington Post did a story on her that was published yesterday in the Pop Culture section.
Schneider, an engineering manager who lives in Oakland, Calif., is also the first transgender contestant in "Jeopardy!" history to make the Tournament of Champions, where the top players from each season compete. During an episode last week, she wore a transgender flag pin and explained on Twitter that she specifically wore it around Thanksgiving because she wanted to show support for the "disproportionately high number of trans people" who are estranged or cut off from their families.

"The fact is, I don't actually think about being trans all that often, and so when appearing on national television, I wanted to represent that part of my identity accurately: as important, but also relatively minor," she wrote. "But I also didn't want it to seem as if it was some kind of shameful secret."

Schneider was initially a bit hesitant to publish the thread. She has seen prominent trans people speak out on Twitter, and the reaction is not always pleasant. But as she realized she was going to be on national television for a decent stretch of time, she started thinking about how she wanted to talk about that part of her identity. As a once-closeted trans person, she knew others in similar situations would be watching her closely.

"I just want them to know that I see them and I support them and they're great, and they can do great things," she said, adding that she wanted to show people in the closeted phase that it's possible to "be living your true self and having success and doing everything you ever wanted to do." The online reaction from "Jeopardy!" viewers, with a few rare exceptions, has been overwhelmingly positive, she said, and she's enjoyed chatting with fans on Twitter and sharing behind-the-scenes details.

Never in my life did I really think I'd be interviewed in the Washington Post!https://t.co/OMwFe4ItmA

— Amy Schneider (@Jeopardamy) December 2, 2021
She's smart and quick-witted on the show. I'm not blaming the show for her activism on social media. There won't be any boycotts from me over this. It would just be nice if everyone could just let it go and play the game.
Via      Hot Air