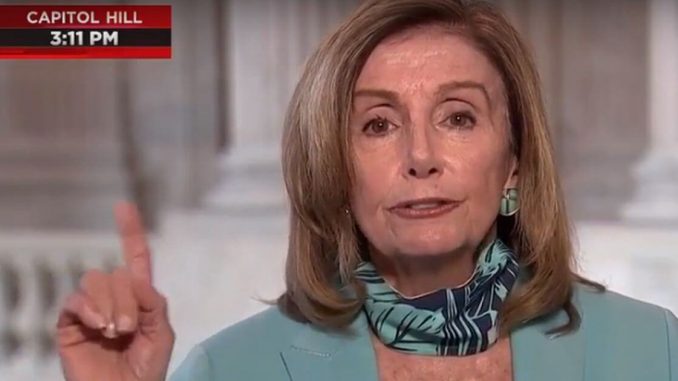 House Democrats led by Speaker Nancy Pelosi voted against a bill Tuesday proposed by Sen. Hawley (R-MO) and Sen. Braun (R-IN) which was unanimously passed by the Senate that would have forced the White House to declassify intelligence on the origins of the COVID-19 virus.
Representatives Burgess (R-TX), LaHood (R-IL), and Wenstrup (R-OH) brought the COVID-19 Origin Act to the floor before it was killed in a 216 to 207 vote primarily along party lines.
FLOOR ALERT: @HouseDemocrats blocked @HouseGOP requests to declassify intelligence on the origins of COVID-19 & #ChineseCommunistParty's subsequent cover-up. The Senate UNANIMOUSLY passed the bill 5⃣5⃣ days ago…what is the Speaker afraid of? #HoldChinaAccountable pic.twitter.com/uOzbadQ41q

— House Rules Republicans (@RulesReps) July 20, 2021
So what is the House afraid of the American people discovering in a declassification of COVID-19 origins?
It is worth noting that the House killed the transparency bill the day before Dr. Fauci and Sen. Paul went to blows over Dr. Fauci's role in the NIH financing COVID research at the Wuhan lab, both calling each other a "liar".
Additionally the vote came just days after WHO began urging China to cooperate with their second inquiry into the virus's origins by sharing raw patient data which they refused in the first investigation and just two days after China refused the request.
"We will not accept such an origins-tracing plan as it, in some aspects, disregards common sense and defies science," Zeng Yixin, China's vice minister of the National Health Commission said.
Yizin went on to state that China would not release the data due to patient privacy concerns and accused the WHO of launching the second phase due to political.
"We hope the WHO would seriously review the considerations and suggestions made by Chinese experts and truly treat the origin tracing of the COVID-19 virus as a scientific matter, and get rid of political interference," Zeng said.
The Biden administration has repeatedly said that the WHO should explore theories including the hypothesis it could have escaped from a Chinese laboratory. It is also pursuing its own probe.
The White House Press Secretary, Jen Psaki, said on Thursday Biden is "deeply disappointed" in China's decision to reject a WHO plan for a second phase of an investigation into the origin of the coronavirus.
"Their position is irresponsible and, frankly, dangerous," Psaki said.
The timing is all rather curious. In the end the American people lose again to their dem-elected officials who are not interested in transparency, just politics and a meak President who will not stand up to China and atone for the millions of lives lost due to this insidious and completely political disease.