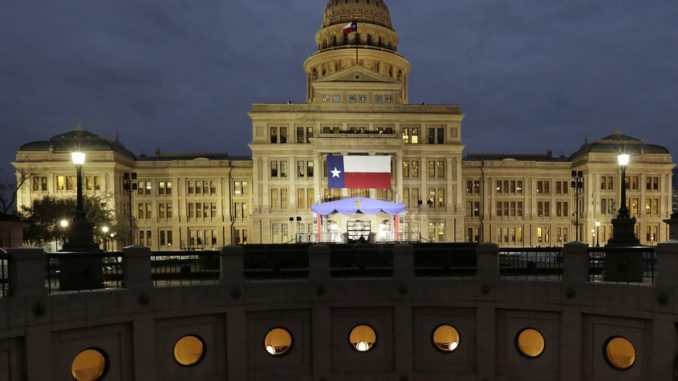 The third special session of the Texas Legislature ended Tuesday night. A bill promoted by former President Trump was not added to the special session's agenda by Governor Abbott and the Texas House of Representatives did not bring it up for a vote. The Texas Senate voted on it and passed the bill that allows party officials to request election audits of their county's 2020 election results and set up a process for future audits. Is Trump's influence in Texas, where he won in 2020 by six points, showing signs of waning?
Maybe. Texans don't like to be told how to manage their business by outsiders, even a popular former president who is calling for a move that would cost millions of taxpayer dollars. Remember, after the 2020 election the secretary of state declared the election "smooth and secure." Audits of the two largest Republican counties and two largest Democrat counties are underway. Last month Trump began pressing for an election audit in Texas. Hours later, the audits of those four counties were announced. At the time Trump was asking Governor Abbott to add an audit bill to the special session agenda (the governor sets the agenda.)
The Secretary of State's office announced late Thursday that "a full and comprehensive forensic audit" is underway in Dallas, Harris, Tarrant and Collin counties. Democrat Joe Biden won in three of the counties, while Trump carried Collin County. It is not clear what the review will cost or who is carrying it out.

Earlier on Thursday, Trump requested that Gov. Greg Abbott add a 2020 election audit to the current special session agenda. Without offering any evidence, he wrote that "Texans know voting fraud occurred in some of their counties."

"Let's get to the bottom of the 2020 Presidential Election Scam!" Trump wrote in an open letter to Abbott, who has yet to publicly respond.
Abbott didn't add it to the agenda and the House didn't bring the bill up for a vote after it passed in the Texas Senate.
It remains to be seen what Trump's reaction will be now that the special session has ended. He has already endorsed Abbott in his re-election bid but he is threatening Speaker of the House Dade Phelan with supporting a primary challenger for not quickly bringing up the bill.
In a statement on Saturday, Trump accused Phelan of not "fighting for the people of Texas."

"If this doesn't pass soon, we look forward to seeing him in the Texas primary. It will get done one way or the other!" Trump said, hours before he headed to Iowa for a political rally.
Trump received a second setback at the close of the special session. In the election integrity reform bill passed during the special session, new criminal offenses and enhanced penalties were created but the penalty for illegal voting was changed from a second-degree felony to a Class A misdemeanor. Trump asked that the penalties be increased back to what they were before Abbott signed the new bill last month. Some Republicans began to have second thoughts on the change so Abbott added the issue to the special session agenda on September 30. Speaker Phelan determined it was "not the time to re-litigate" the election integrity reform bill so the bill died in the Texas House. You may remember the crazy actions taken by Democrats in the House to avoid voting on election integrity reform in the general session of the Texas Legislature and then in the first two special sessions.
The election audit bill would leave Texas taxpayers on the hook for up to $250 million. An analysis from AngelouEconomics and Secure Democracy shows the cheapest review costing about $35 million. Individual counties are responsible for the cost of election audits. Abbott justifies not ordering a statewide audit by pointing to the audits in the four large counties, three of which were carried by Biden in 2020.
Another action is being taken by Attorney General Paxton.
Texas Attorney General Ken Paxton announced Monday his office is also forming an "election integrity unit" to examine any irregularities with the upcoming 2021 election. Paxton's office noted the effort is a continuation of his "Ballot Fraud Intervention Team" for the 2020 election—which the Chronicle reported resulted in only 16 cases being prosecuted despite more than 22,000 staff hours being spent on the effort.
#NEW #Texas Attorney General @KenPaxtonTX announces he's formed the 2021 Texas Elec­tion Integri­ty Unit that begins today, the start of early voting on local issues and eight state constitutional amendments. @CBSDFW pic.twitter.com/0ex0RTh3Dn

— Jack Fink (@cbs11jack) October 18, 2021
The state senator who brought forward the bill that was voted on by the Senate said his bill was meant to address "irregularities". Critics voiced concern about taxpayer costs and partisan exploitation.
Sen. Paul Bettencourt, R-Houston, said his measure was meant to address questions about any "irregularities." But critics warned the change could empower partisans to request endless reviews at a steep cost to taxpayers, as counties would be on the hook for the bill.
The calls for audits brought about by partisanship could come from either party, which is something to keep in mind. Texas is a red state because Republicans hold all statewide offices and have since the late 90s. However, before that, it was a Democrat state. We may not want to think about it but one day Texas may fall back into Democrat control. It's best to play a long game and not one that would bring short-term satisfaction. Besides, there is no guarantee that an election audit would show a different result. The election audits conducted in Arizona found more votes for Biden, not fewer when it was all finished. I'm not denying that some allowances were made in voting for 2020 that were never made in previous elections. Democrats used the excuse of the pandemic in Harris County (Houston), the state's largest county and Democrat-controlled, to push the envelope and use methods of voting like drive-through voting and 24 hour voting, for example. Those actions by the rookie activist County Clerk were corrected in the election integrity reform bill. No one county gets to go rogue and make up its own voting rules.
So, is Trump's influence waning in Texas? Not so much on a basic level but there are limits of his influence in some areas.
University of Houston political science professor Brandon Rottinghaus told the Chronicle it was "clear" Trump "was driving the narrative on much of this," noting the fact the election audit and illegal voting penalty bills failed "does show you the limitation of Donald Trump on these voting issues."
That's to be expected. He's no longer in office and may or may not run again in 2024. His best bet right now is to play the role of advisor, to persuade Republican voters to get out and vote, not make blanket threats that Republicans will stay home in 2022 and 2024 if he isn't satisfied that enough investigations into the last election occurred. Depressing the vote with Republicans is a recipe for disaster. It's handing control to Democrats and that's the last thing we need. We don't need a repeat of what happened in Georgia.
Via    Hot Air