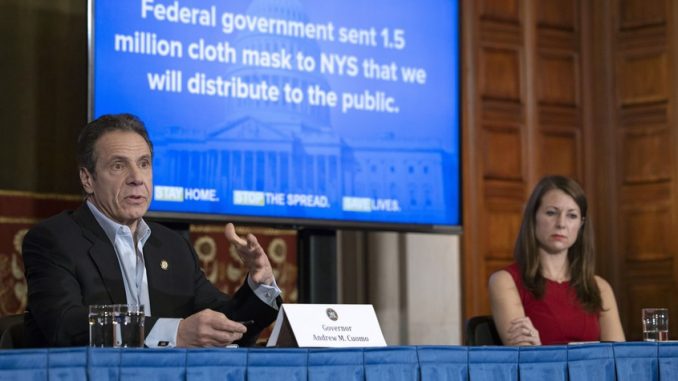 This comes 18 months too late but it's good to see it in print nonetheless. Politico reports that while Gov. Cuomo was giving daily COVID updates and lectures about following the science, behind the scenes he was making "ridiculous demands."
In the summer of 2020, with Cuomo at the height of his pandemic-inflated fame, the then-governor of New York suggested that the state health department deploy half its roughly 5,000 employees to check restaurants for their compliance with the state's mask-wearing and capacity limit rules. Cuomo wanted to tout the number of tickets issued for noncompliance during his nationally televised news briefings, according to a former administration official who was on a call when the governor floated the idea…

The governor's proposal — "an impossible request" — baffled the official, whose account was confirmed by another person familiar with the plan. But, the official said, "the call ended and no one said 'no' to him … No one could explain to him how bad the idea was."
Because sending 2,500 health department staffers as a compliance "army" was a terrible idea, Cuomo's own staff had to come up with a plan to placate the governor. They ultimately sent out 50 staffers and told them to tweet photos of their compliance actions to make them very visible. That worked and Cuomo was apparently happy until he moved on to his next brainstorm.
Later in the article we learn that the governor's demands created a "toxic environment" where people in the health department were working longer hours and being micromanaged at every turn by the governor. But eventually, the daily COVID briefings became the focus of a lot of the time and attention of staff.
By the time the "Cuomo Show" had reached national syndication, it consumed much of the administration's pandemic response as public health officials turned their attention to supporting the daily briefings, several former state officials said.

The endeavor "diverted people's attention to service the press conference instead of servicing the running of the state," the former Department of Health staffer said. "It became more about the press conference and about the issue that he was talking about at the press conference."…

A member of the governor's Covid task force conceded that Cuomo "was managing by press release, by press conference. If he saw a bad story he pivoted, and we reacted to it, the policies reacted to it. Everyone who worked with him put up with it. But he got a lot of kudos."
And while all of this was happening, Cuomo was working on his book. His literary agent started meeting with potential publishers as early as March and by early July, as the daily Cuomo show was a hit and Cuomo was being praised as the hero of the pandemic, Penguin Random House won the bidding war for the book at just over $5 million dollars. Cuomo then had members of his staff working on drafts of the book for the next several months.
Finally, the story gets to the intentionally misleading claims made about nursing home deaths. Politico reports that state health Commissioner Howard Zucker was called to testify about the governor's infamous March order regarding nursing homes, a "senior executive chamber official" told him to claim that order had been made by the Department of Health without any input from the governor's office. That was a lie so Zucker refused to do as he was told.
The whole story is worth reading but the gist is that Cuomo and his administration often seemed focused on PR and promoting and protecting the governor rather than focusing on the pandemic itself. A spokesman for Cuomo of course denies all of that. I'm not sure why anyone would believe him at this point.
Via        Zerohedge