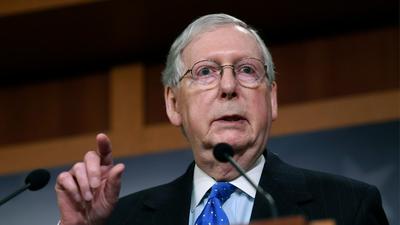 House Speaker Nancy Pelosi said in a Thursday night "Dear Colleague" letter that it's been a "day of progress," and that "Discussions continue with the House, Senate and White House to reach a bicameral framework agreement to Build Back Better through a reconciliation bill.
via Punchbowl News' Jake Sherman:
https://t.co/nXi7pukApc pic.twitter.com/iaZAOeoDA7

— Jake Sherman (@JakeSherman) October 1, 2021
According to the LA Times' Nolan McCaskill, the infrastructure vote may happen on Friday, as a source tells him that House progressives are being presented with a "framework" as we speak.
One moderate member tells me he thinks the infrastructure vote will roll over to the morning but that members should know soon. He said he's heard a framework is being presented to progressives now

— Nolan D. McCaskill (@NolanDMcCaskill) October 1, 2021
*  *  *
Update (1930ET): President Biden has signed the Continuing Resolution, averting a midnight shutdown and funding the government through Dec. 3, according to Bloomberg.
*  *  *
Update (1546ET): The House has OK'd the Senate-passed Continuing Resolution (CR) by a 254-175 vote – avoid a government shutdown at midnight, after the Senate passed the stopgap spending bill 65-35.
U.S. House, in 254-175 vote, OKed the Senate-passed continuing resolution ("CR") to extend government funding to Dec. 3 and avert a partial shutdown. Also includes billions for disaster aid and Afghan evacuation & resettlement. Biden's signature next.

D 220-0, R 34-175

— Greg Giroux (@greggiroux) September 30, 2021
Next stop, Biden's desk.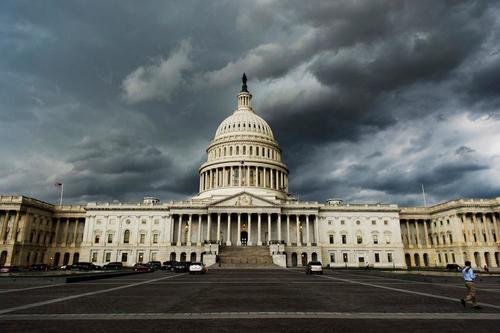 The bill only passed after Democrats eliminated an earlier attempt to link a suspension of the debt deiling to the bill, which was blocked by GOP senators on Monday.
It also does not include a proposed $1 billion allocation for Israel's Iron Dome missile defense system pushed by GOP lawmakers. That said, the House has already passed a standalone bill to provide that funding, which the Senate may soon take up.
The move will keep the government funded until Dec. 3, after which they can bring a new Continuing Resolution (CR). It contains $28.6 billion to resettle refugees from the Afghanistan debacle.
According to House Speaker Nancy Pelosi (D-CA), her chamber will take up the bill on Thursday, where it's expected to receive overwhelming support.
*  *  *
Update (1340ET): The US Senate has enough votes to pass a bill which will extend government funding through Dec. 3, averting a shutdown at midnight tonight.
The bill will next move to the House, which is expected to clear it for President Biden's signature this afternoon.
Meanwhile, the rest of the Democrat's agenda remains in limbo, after Rep. Pramila Jayapal said House progressives were "in the same place" following a meeting with Speaker Pelosi regarding their refusal to vote 'yes' on the $1.2 trillion infrastructure bill without concurrently passing the $3.5 trillion economic blueprint.
Progs: Vote will fail.
Mods: Vote will happen.
New Dem: Maybe. https://t.co/sbM62hWhNV

— Jake Sherman (@JakeSherman) September 30, 2021
*  *  *
While Congressional Democrats are nowhere near a deal on a $3.5 trillion social spending package, and House Speaker Nancy Pelosi planning to move forward with a Thursday vote on the $1.2 trillion infrastructure bill that's doomed to fail due to party infighting, Republicans are set to grant them a minor victory.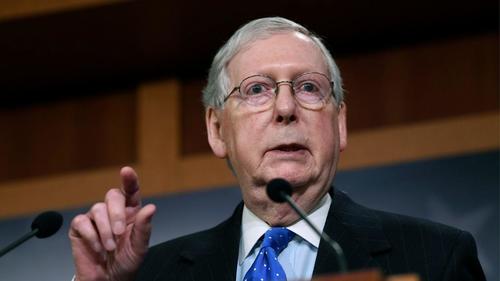 On Thursday, Senate Minority Leader Mitch McConnell (R-KY) predicted that the Senate would pass a Continuing Resolution (CR) to avoid a partial government shutdown – suggesting that enough Republican Senators will support the Democratic measure due for a vote later in the day.
"The Continuing Resolution contains a number of key items that Republicans call for," said McConnell. "That includes supplemental funds to resettle Afghan refugees, and hurricane recovery aid for Louisiana."
McConnell then said it was "seriously disappointing" that Democrats wouldn't let them fund Israel's Iron Dome, adding "It honestly baffles me that defensive aid to our ally, Israel, has become a thorny subject for the political left. But overall, this is encouraging progress."
"On government funding, what Republicans laid out all along was a plain, continuing resolution, without the poison pill of a debt limit increase. That's exactly what we'll pass today."
#BREAKING: Senate Minority Leader Mitch McConnell (R-KY) says a government funding deal will go through and a shutdown will be avoided. pic.twitter.com/X9BjZJwW2N

— Forbes (@Forbes) September 30, 2021
The CR is a stop-gap measure which temporarily provides funding for the government through December 3rd, at which point Congress will need to issue another CR to fund the remainder of the fiscal year.
As we noted earlier Thursday, the Democrats' hopes of passing $4.6 trillion in legislation anytime soon appear to be slim.
Despite moderate Democrat Sen. Joe Manchin of West Virginia refusing on Wednesday to back his party's $3.5 trillion spending plan  – calling it the "definition of fiscal insanity," Speaker Nancy Pelosi still plans to hold a vote on the $1.2 trillion infrastructure bill that House progressives vowed to sink unless the $3.5 trillion plan was passed in tandem.
"So far, so good for today," said Pelosi at a press conference following a meeting with her leadership team, adding "We're on a path to win the vote."
According to Assistant Speaker Katherine Clark, even if the bill doesn't pass today, the impact will be limited.
"Whether that vote happens today, and I hope it does, this is not over," she told Bloomberg TV, adding ""If we haven't reached that point in our negotiations, our commitment is to getting this entire agenda done, and that will happen."
Good luck with that.
In short, looks like the government won't shut down – but the debt ceiling and the spending packages remain in limbo.
Via    Zerohedge