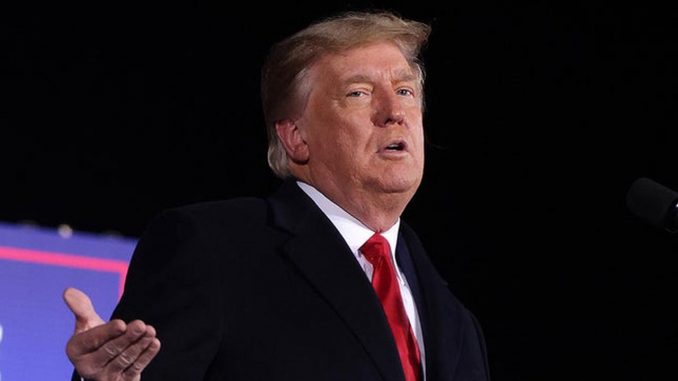 Former President Trump and House Democrats say they are near a deal that will settle issues involving congressional subpoenas of his financial records from Deutsche Bank, according to a Monday court filing.
The two parties, according to the court filing, are "continuing to engage in negotiations to narrow or resolve their disputes and believe they are close to an agreement."
The negotiations, the filing noted, are over the scope of the subpoenas and the "process for resolving any concerns about privacy and responsiveness."
The parties asked for an additional 30 days to continue negotiations. The filing said the extra time will "aid those negotiations and allow coordination with Deutsche Bank regarding the implementation of any agreed-upon process."
A spokesperson for Deutsche Bank declined to comment.
The House Intelligence and Financial Services committees subpoenaed Deutsche Bank in 2019, asking for information about Trump's finances.
The then-president challenged the subpoenas, claiming that the action was an encroachment on his presidential powers.
The Supreme Court ultimately ruled last summer that Congress had the authority to request evidence from the president. It also said that a lower appeals court did not sufficiently consider Trump's claims that the demands were unnecessary and too invasive.
The subpoenas expired during the last congressional term, but House Democrats have said they plan to issue new ones.
In January, Deutsche Bank said it will halt all businesses with Trump, his family and his personal businesses other than overseeing the repayment of existing loans totaling more than $300 million.
Meanwhile, the Manhattan District Attorney's Office, which is conducting a probe into the Trump Organization separate from that of lawmakers, obtained Trump's tax returns in February, after the Supreme Court rebuffed an effort from the former president's lawyers to shield the documents.
The documents came from Trump's accounting firm, Mazars USA. The office of Manhattan District Attorney Cyrus Vance Jr. (D) subpoenaed them in 2019 as part of a grand jury investigation.
Before his election in 2016, Trump famously became the first major party nominee in decades to refuse to release his tax returns publicly.
After the Treasury Department and IRS under Trump refused to provide House Democrats with his filings, the lawmakers filed suit against them.
Late last month, Biden administration officials said they needed more time to determine their position in that ongoing case.
Via The Hill