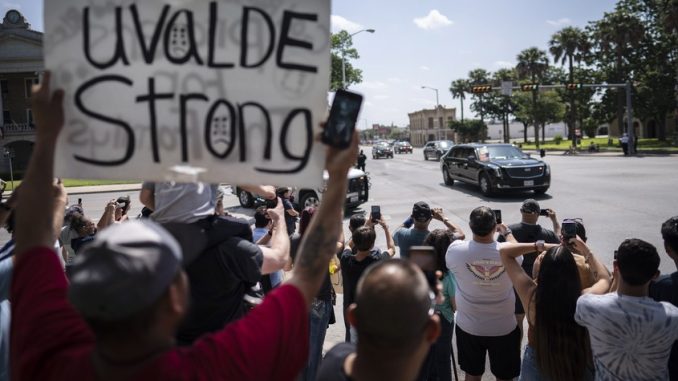 It's a sign of the times. Voter registration is up and so is political activism since the mass shooting at Robb Elementary School. More than 300 people have registered to vote in Uvalde since the shooting. That is more than double the number in the same period during the last midterm election season.
In July, over 100 protesters came out in 106-degree heat to march for stronger gun regulations — including raising the minimum age to buy an assault weapon — and for greater transparency from local and state authorities investigating the shooting. Political demonstrations are unusual in Uvalde. That demonstration was the largest local demonstration since 1970. At that time, the school district refused to renew the contract of a popular Robb Elementary School teacher. A school walkout over demands for equal education for Mexican American residents was the result. The teacher at the center of contract renewal was the mother of Ronnie Garza, now a Uvalde County commissioner.
Garza said the shooting has changed the community, uniting people in grief but dividing them on questions of accountability. "We are a desperate people right now. We are yelling here that way, we are yelling (the other) way, for somebody to listen to us, to come and help us," said Garza.
Uvalde is a small tight knit town. Everyone knows everyone else. Things are complicated after the shooting. For example, friends of the school district's police chief, at the center of the police response, Pete Arredondo, are concerned about him and how he is handling being the center of attention yet they want him out of his job. In other words, they care for him as a human being but they are demanding accountability for the loss of 19 fourth-graders and two teachers on his watch. One old friend wonders why Arredondo doesn't just resign.
After the massacre at Uvalde's Robb Elementary School in May, Jesse Rizo was worried about his old friend, police chief Pete Arredondo.

Blame for the botched police response was being directed heavily at Arredondo when Rizo texted him just days after the shooting: "Been thinking of and praying for you."

"I care about Pete. I care that he's mentally OK. I don't want a human to start to lose it," said Rizo, who is distantly related to a 9-year-old girl who was killed at Robb Elementary. "But I also want to hold people accountable who don't perform their jobs properly."
Arredondo has not been fired. He was mostly missing in action after the shooting. Then it was reported that he was elected to the city council. He has since resigned from that position. Residents are openly calling for his firing. Last week the Uvalde school board abruptly scheduled a meeting to discuss firing Arredondo and then just as abruptly canceled the meeting. Town residents are reaching the end of their patience. Who can blame them? It's been since May 24. The reports and explanations that have come forth since then have been contradictory and confusing. There has been a lot of downright lying going on, too.
After the release of the Texas House investigative committee's report, community anger has grown. The sight of so many law enforcement officers from so many different agencies just standing outside the classroom, in the hallway waiting for someone to tell them what to do, was maddening. Arredondo claims he didn't think he was in charge that day, though that goes against his department's operating manual. When body cam videos were released, it became clear that Arredondo was acting as though he was in charge. Analysis shows "the school district's police chief, at the center of the police response: giving orders, conveying and receiving information, and officers deferring to his position when confused over their roles or response to the shooting."
The videos, together with other documents released so far, undermine Arredondo's claim that he did not consider himself to be in command that afternoon. The footage shows officers taking their cues from him, waiting on his direction and Arredondo coordinating officers in the hallway outside the classroom where the shooter killed 19 students and two teachers.

Officers followed him where he went and referred to "Pete" being in command when others had ideas for how to approach the situation, body-worn camera footage from an Uvalde police sergeant shows. At one point, Arredondo said that people would wonder why officers were taking so long, and then explained himself.

"People are going to ask why we're taking so long," he said. "We're just trying to preserve the rest of the life."
Was he in CYA mode instead of figuring out how to handle a mass shooting situation at an elementary school? Good Lord. "People are going to ask…" Who is thinking about people asking questions when in the middle of an emergency situation?
There have been two reviews of the police response. One by state legislators and one by the Advanced Law Enforcement Rapid Response Training Center at Texas State University. Both faulted Arredondo. Neither report is considered complete, though, of either an accounting of the day's event or its failures. No raw footage of the videos have been released or unedited footage.
Arredondo been placed on unpaid leave. The only other person to be disciplined so far is a police lieutenant with the City of Uvalde Police Department. He was placed on administrative leave while it is determined whether he should have assumed command. He was the department's acting chief that day.
Via            Hot Air