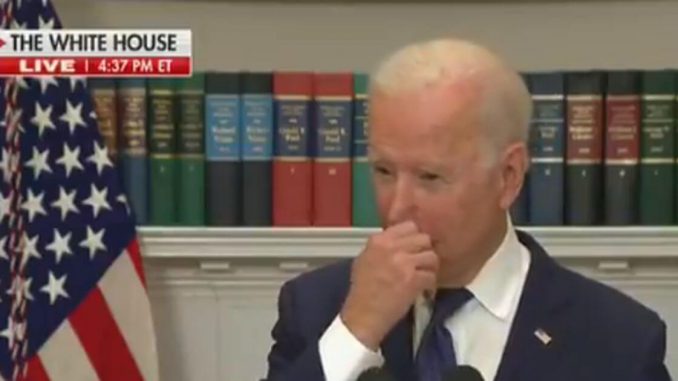 During a press conference today Joe Biden was confronted by a reporter over a new poll that shows a majority of Americans now believe he is not competent to do the job of president.
Via the Daily Wire:
The poll comes after the administration has faced widespread criticism, as well as backlash at home and abroad over its disastrous pullout of U.S. forces from Afghanistan.
"A new poll out today shows Americans wanted to withdraw from Afghanistan, but they disapprove of the way you've handled it," a reporter said to Biden. "The poll also found that based in part on what's transpired in the last week, a majority of Americans, and forgive me, I'm just the messenger, no longer consider you to be competent, focused, or effective in the job."
"I haven't seen that poll," Biden immediately responded.
"It's out there," the reporter responded.
Biden responded by shaking his head no and laughing.
Watch the entire exchange:
Reporter apologizes to Biden for having to deliver him poll results showing that the majority of Americans believe he is no longer competent to be president

Biden responds by laughing, claims he has not seen the mainstream poll that has been widely talked about in the news today pic.twitter.com/DRwip8RW9T

— Ian Miles Cheong @ stillgray.substack.com (@stillgray) August 22, 2021
First it's almost unbelievable that a reporter asked Biden about his singling poll numbers.
Before the debacle in Afghanistan this never would have happened.
Any reporter that dared challenge the enfeebled Joe Biden this way would have been mercilessly attacked by his or her peers and the leftist outrage mob.
It seems that Joe Biden is losing friends in all directions after the monumental disaster and horror show still unfolding on the ground in Afghanistan.
— Dog Daze of Summer (@EdwardWalter11) August 22, 2021