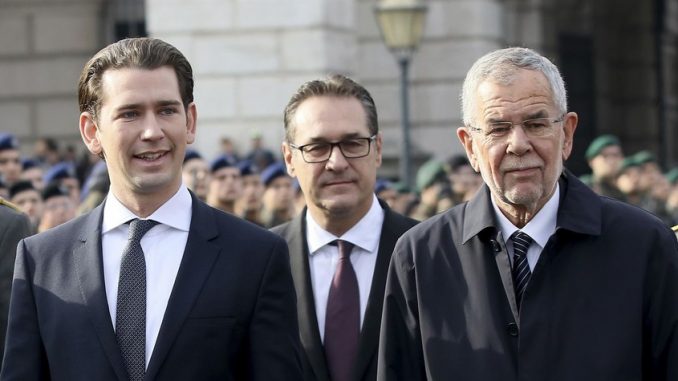 It appears that Austria and Australia will soon have more in common than most of the letters in their names. We previously learned that unvaccinated Australians will be looking at being essentially confined to their homes for the foreseeable future following sweeping new government mandates. But now the government of Austria is preparing to follow suit. Austrian Chancellor Alexander Schallenberg made the unofficial announcement on Friday, with an official order expected in the next few days. After seeing another surge in new COVID cases, Austria's government had already put a number of restrictions in place, but under the new order, there won't be any wiggle room left. Also, the number of people under mandatory vaccination orders is being expanded. The lockdown order initially only covers two regions, but on Sunday they plan to take it nationwide. (The Hill)
Austria will put a lockdown in place for the unvaccinated in two regions where COVID-19 cases are surging starting on Monday, Austrian Chancellor Alexander Schallenberg stated during a press conference Friday.

Unvaccinated people in the Austrian regions of Upper Austria and in Salzburg will only be permitted to leave home for specific reasons, such as grocery shopping or doctor's appointments, per ABC News.

Chancellor Schallenberg stated that he and other leaders in Austria will reconvene Sunday to finalize the measures and their implementation next week, according to ABC News.
The Chancellor went on to ensure that no one misunderstood the intentions of the nation's leadership, saying, "we give the green light this Sunday for a nationwide lockdown for the unvaccinated."
And what does that lockdown mean? They had already taken some initial steps last week. The Health Minister issued an order barring the unvaccinated from various recreational venues including salons, restaurants, theaters and bars. But now the mandate is far more sweeping. The unvaccinated will "not be allowed to leave their homes" except for trips to take care of essential shopping, brief periods of exercise (alone) and to go to work. And the "work" exception will only apply if your employer permits unvaccinated workers, which does not apply in all cases.
There's no denying that Austria is in the midst of a very bad surge in new cases. They recorded nearly 12,000 new cases on Friday, which was several thousand higher than the worst spike they experienced during the peak of the pandemic at almost the exact same point in 2020. The country's current vaccination rate sits at 65%, which the Chancellor described as being "shamefully low."
There's one question that the Austrian government is still not answering, however. How long can this go on? They aren't even offering a suggestion as to any expiration date for these lockdowns or even a target infection rate that they'll need to dip below. Does the Austrian government intend to simply keep doing this every time there's a surge in infections in perpetuity? We already know that even the fully vaccinated can become infected now and even spread the disease. Thankfully, most of them will have much milder symptoms than the unvaccinated, as will those who survive the disease and acquire their own natural immunity. But if all you're counting is the raw number of infections, this could be going on for a very long time.
Of course, I'm not sure why I'm asking questions and pointing fingers. It certainly sounds as if the Biden administration and Dr. Faucci have no plans for pulling the plug on these authoritarian shenanigans any time in the near future. Perhaps the United States needs to be looking in the mirror and asking itself the same questions I'm posing for the Austrians and the Australians and every other country engaging in this malarkey.
How many times will we have to go over this? The virus is here. It's not going away. It's endemic. It will be around just like the flu has been around for all of our communal living memory. And we're not going to live like this indefinitely. Nobody should have to.
Via        Hot Air