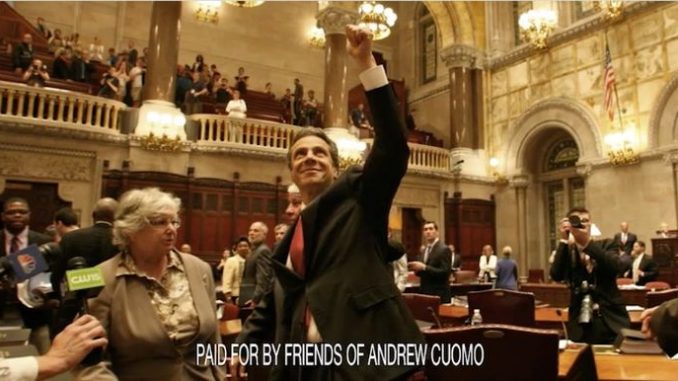 This is going to be the thing that finally breaks me, the moment when politics becomes so nihilistic that even a diehard cynic can't stand it anymore.
Not the idea of Cuomo running. We've known that was possible since he showed up at a black church during Sunday services and claimed that God doesn't want New York to cancel him or something. He's a reptile, a creature without shame. It's a given that he'd be thinking of running again.
The thing that's going to break me is the fact that he might win.
The odds that Donald Trump will be president and Andrew Cuomo will be governor in 2025 can't be much worse than one in three at this point. This country can't seem to quit its addiction to boorish, corrupt New Yorkers.
His former spokesman posted this video a few days ago. Although Cuomo hasn't announced anything yet, it's clearly a campaign ad. And the strategy is sound: If you're a New York liberal, why not focus on the stuff about Cuomo that you like rather than the stuff you don't? Why throw away an effective leader over something as minor as serial sexual harassment or the fact that he'll lie to your face to cover up when his policies are grossly ineffective?
The Record from Rich Azzopardi on Vimeo.
He's thinking about it, CNBC reports this afternoon:
Cuomo, who reluctantly left office last year after denying the harassment allegations, has been fielding calls from supporters about a possible run against his former lieutenant governor. His aides have been conducting their own internal voter polling on a potential matchup, these people explained. Those who declined to be named did so in order to speak freely about private matters.

After a recent public poll from Emerson College and The Hill showed Cuomo was a few points behind Hochul, the former governor received calls from allies encouraging him to run against Hochul, a person close to Cuomo said…

Although supporters are encouraging him to run, there have been many leaders within his party who have said publicly and in conversations with CNBC that they are hoping he doesn't run after multiple scandals have followed him out of office.
The one saving grace here, I hope, is that the Democrats' national leadership won't want Cuomo on the ballot this fall. In a heavily Republican environment, they'd much prefer a generic Democrat like Kathy Hochul to one with Cuomo's baggage. Flipping New York red would be a heavy lift for the GOP even with everything breaking its way, but all you need to do to grasp whether it's possible is look across the border to New Jersey. Phil Murphy eked out a three-point victory there in November despite having the advantage of incumbency and the virtue of being an exceedingly generic Democrat himself. Conceivably there are enough Democrats in New York who find Cuomo repellent to give Republican Lee Zeldin a puncher's chance at the upset in the gubernatorial race. In the Emerson poll featured above, fully 63 percent of New Yorkers said Cuomo shouldn't hold public office again.
So I'd expect the White House and congressional leaders to back Hochul. I'd also expect Democrats to recruit prominent African-Americans to get behind her, knowing that Cuomo has always done well with black voters. If the Obamas end up on Team Hochul along with top black New York politicians like Hakeem Jeffries, maybe that's enough to snuff out the Cuomo comeback. No doubt some anti-Cuomo Dems are warning him privately right now not to make their lives harder by contesting the New York primary or else they'll pull every lever they have to head him off.
Whether he listens or not probably depends on what those internal polls are showing. But if he's thinking seriously enough about running to have already begun cutting ads, I'm guessing the numbers must be encouraging.
American voters just can't seem to stop doubling down on unlikable but familiar former politicians who "fight" even when their party would be better off nominating someone else.
I'll leave you with this piece from Mediaite. Looks like the Cuomo comeback this week is a family affair.
Via        Hot Air