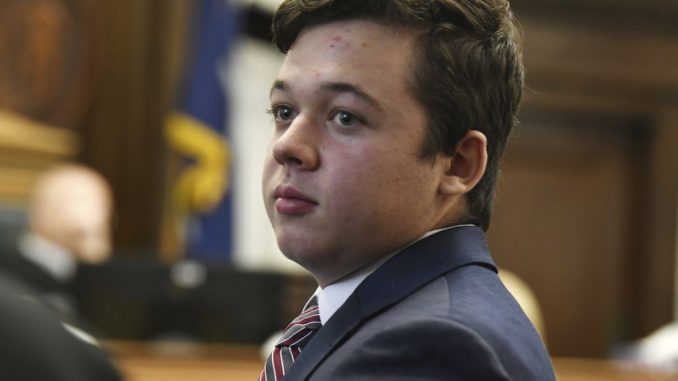 It was bound to happen. Some far-left groups at Arizona State University have united to rally against Kyle Rittenhouse. They demand that Rittenhouse be withdrawn from the school by the administration.
Rittenhouse was found not guilty of all charges by a jury just ten days ago. The now 18-year-old teenager fatally shot two people and shot and injured a third person during the riots in Kenosha, Wisconsin in August 2020. The Summer of Love was a violent and destructive one. Rittenhouse worked in Kenosha, though he lived in Illinois. His father and other family members live in Kenosha and Rittenhouse became involved in what he considered protecting businesses and assisting people who might have needed medical attention during the chaos that frequently happened during the riots. His defense successfully made the case that Rittenhouse shot the three men in self-defense.
The Arizona State University Students for Socialism, Students for Justice in Palestine, Multicultural Solidarity Coalition, and MECHA de ASU have a problem with Rittenhouse as a student of the school. He's not even on campus but that doesn't matter. Those who "fight" for justice suddenly have a problem with the verdict of a jury when it isn't the verdict they want. Imagine that. They refer to him as "Murderer Kyle Rittenhouse."
A rally is planned for Wednesday and sign-making will be on the agenda today.
Join us and rally against racist murderer Kyle Rittenhouse being permitted on our campus – Wednesday at 3:30 outside the Nelson Fine Arts Center on campus pic.twitter.com/4Hs3JxRqtY

— Students for Socialism ASU 🚩 (@SFSASU) November 26, 2021
The students describe the results from Rittenhouse's trial in hyperbolic overreach. "Innocent people" do not aggressively come at a 17-year-old with threats of personal harm, including the guy wielding a skateboard. Skateboards were commonly used during the Summer of Love by Antifa and others during BLM protests. Remember the guy who used his skateboard to break the windows at CNN's headquarters in Atlanta that summer?
The jury's decision to clear Rittenhouse "effectively gives right-winged individuals the license to kill other individuals who protest for human rights," the group claimed.

"Rittenhouse took the lives of innocent people with the intent to do so—by strapping an assault rifle to himself in a crowd of unarmed citizens. That is the textbook definition of intention," the spokesperson claimed.

"The decision made by the court is one of thousands of cases that have been influenced by biased judges, predominantly white juries, and mistakes inherent in a judicial system founded off of injustice to begin with," the spokesperson said.
Rittenhouse was found not guilty but the students explain that "Kyle Rittenhouse is still guilty to his victims and the families of those victims."
A list of their demands is posted on Facebook.
Besides expelling Rittenhouse from the school, they demand that the administration release a statement against white supremacy and Rittenhouse. They also want the university to show support for the multi-cultural center on campus as a safe place from white supremacy and to re-direct funding for campus police to go to support the center as well as fund a CAARE center. The purpose of college is to prepare students for adult life. In the real world, there are no "safe spaces". It sounds as though the safe place that protects them from white supremacy is one that excludes white students on the basis of their skin color. Reverse discrimination is alive and well in liberal America. That's not progress, that's going backward. Today's liberals sound more like Jesse Jackson and Al Sharpton than Martin Luther King, Jr. Rittenhouse said in an interview that he is a supporter of Black Lives Matter.
The groups released a statement to Fox News that explains their position.
"The goal of these demands is to let the ASU administration know that we as the ASU community do not feel safe knowing that a mass shooter, who has expressed violent intentions about 'protecting property' over people, is so carelessly allowed to be admitted to the school at all," the spokesperson said. "Our campus is already unsafe as is, and we would like to abate this danger as much as possible."
A fact check on Rittenhouse's pursuit of college courses shows he is an online student. Rittenhouse testified on the stand that he is "a college student studying nursing at Arizona State University."
Yes, Rittenhouse is a non-degree-seeking ASU Online student. However, the university said that he has not gone through the admissions process nor has he been enrolled in the university's college of nursing.

We reached out to ASU to confirm Rittenhouse's claim.

The university released a statement saying that Rittenhouse recently enrolled in online university classes last month. However, Rittenhouse is not enrolled in the college's nursing school and has not been admitted to the university.

"Kyle Rittenhouse has not gone through the admissions process with Arizona State University and is not enrolled in the Edson College of Nursing and Health Innovation," the university said. "ASU can confirm that Mr. Rittenhouse enrolled as a non-degree seeking ASU Online student for the session that started Oct. 13, 2021, which allows students access to begin taking classes as they prepare to seek admission into a degree program at the university."
So, this is all a bunch of nothing. These groups can fundraise off their intolerance of others if they choose to do so but in this case, their protest will make no difference in Rittenhouse's life. He can finish his courses online. If he chooses to apply and enroll at ASU to pursue a degree, the admissions process can play itself out then.
Via      Hot Air