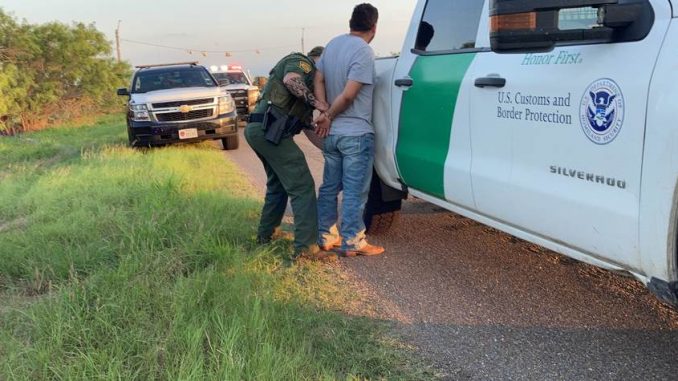 As the Biden border crisis grinds on, stories of illegal aliens pouring into the country from Mexico are about as common as leaves falling from the trees at this time of year. But not all of these "migrants" are simply part of the huddled masses yearning to breathe free. Some of them are hardened criminals and repeat offenders, including some of the most irksome criminals we come across. That was the case last week when Customs and Border Patrol managed to intercept two criminal illegal aliens in the space of one hour attempting to make their way into the country across the Mexican border in the Rio Grande Valley. Both of the men were identified as convicted sex offenders who had previously preyed upon children. (Free Beacon)
Two illegal immigrants who were previously deported for sexually assaulting children were arrested within two hours of each other in the Rio Grande Valley on Monday.

Customs and Border Protection disclosed that one of the illegal immigrant sex offenders originally hails from Guatemala and was found with a group of other migrants trying to enter the United States through the southern border near Rio Grande City, Texas. Following his arrest, Border Patrol agents found that he was arrested in 2019 by the Los Angeles Police Department for lewd or lascivious acts with a child under the age of 14. He served 180 days in prison for the crime before his deportation.

Roughly one hour later, according to CBP, officers with the Texas Department of Public Safety asked for assistance from Border Patrol agents in Fort Brown after a suspected illegal immigrant fled from his vehicle during a traffic stop.
The first migrant, a man from Guatemala, had just been deported last year after serving six months in jail for a sexual assault on a child under the age of 14. Now that the welcome mat has been put out by the Biden administration, he obviously made his way back up through Mexico and attempted to blend in with the rest of the caravan and cross into Texas.
The second one detained not all that far away was no better. He had been spotted in a vehicle along with several other illegal aliens and attempted to flee from the police after they were pulled over. He's a native of Mexico who was convicted in 2011 of sexual assault on a 12-year-old child in Brownsville, Texas. That landed him in prison for six years and he was only deported earlier this year. So within months, he was found crossing into our country yet again.
So if these are two of the criminal illegal aliens who prey on children that we managed to catch, the alarming question to be addressed is how many of them we don't catch on a daily basis. There are record-setting numbers of illegals having "encounters" with border officials this year and we also have solid estimates as to how many "got away" aliens are breaking through. (An estimated 50,000 of them in October alone.)
With our resources on the border being so completely overwhelmed, it's physically impossible to catch, detain, and accurately identify all of them. And the ones with sinister criminal records have the greatest motivation to try to flee or lie about their identities if we manage to stop them. That was certainly the case with the illegal migrant who murdered the father of the family who attempted to help him after he lied about his age and identity recently.
This is the true and vastly underreported cost of Joe Biden's border policies. But instead of finishing construction on the wall and sending more troops to halt the flow, the White House continues to largely turn a blind eye to what's going on at the southern border and pretend that everything is just fine. But everything is far from "just fine." President Biden is enabled in this plan by most of the mainstream media who prefer to report on anything except what's happening down there. And as long as he remains in office and in charge of our border enforcement agencies, nothing is likely to change.
Via      Hot Air