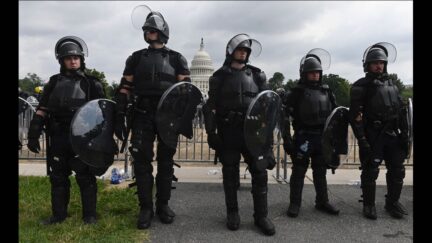 Several hundred pro-Trump demonstrators gathered outside the Capitol on Saturday to protest the treatment of those charged in connection with the deadly Jan. 6 insurrection — a crowd that seemed to be dwarfed by the outsize presence of the news media and police forces on hand to monitor the event.
Fearing another violent riot like that of Jan. 6, U.S. Capitol Police had joined forces with other local and federal law enforcement agencies, creating a massive security apparatus that featured road closures, layers of fencing, hundreds of officers, a National Guard corps on standby, a cavalry lying in wait and helicopters buzzing overhead.
Neither the large security presence nor the small turnout dampened the mood of either the organizers or the members of the pro-Trump crowd, however, who noted that all of the attention will only bring more eyes to their cause.
Still seems like more press than protesters. Less than one demonstrator per member of Congress as the scheduled event begins. pic.twitter.com/6HQjeXKeVA

— Jonathan Allen (@jonallendc) September 18, 2021
"We gave our message … that there's people being held without their constitutional rights being given them," said Joe Kent, a Republican who's challenging GOP Rep. Jaime Herrera Beutler in Washington state in next year's midterm election. "We did it peacefully, and it seems like it was a successful day."
The theme of the protest was hammered home by Kent and every other of the day's speakers: those arrested for non-violent offenses surrounding Jan. 6, they argued, have been jailed too long or have suffered other mistreatments that defy their constitutional rights. They repeatedly characterized those facing charges as "political prisoners" — with one speaker claiming they're being "tortured" — and accused authorities of punishing them more harshly than the Black Lives Matter protesters of last summer, though they were charged in some cases with similar crimes.
"You had BLM and Antifa, they were blinding police with lasers, burning down buildings, looting cities. And they had Kamala Harris bail them out of jail," said John Balazek, 58, who had come to the Capitol from southern Maryland to support the protest.
"How are these people more of a threat than actual murderers?" he added. "This is the kind of crap that happens in China, where you have political prisoners who are rounded up and disappeared."
Although a number of congressional Republicans have raised the same concerns about the treatment of those arrested in connection to Jan. 6, no lawmakers participated in Saturday's event — a dynamic that irked the organizers, the speakers and some of those in the crowd.
"It would have been nice to have them out here. I'm a little bit disappointed that they didn't show up," said Kent. "I guess there was some pressure coming from [House Minority Speaker] Kevin McCarthy (R-Calif.), which doesn't surprise me at all."
Kent then accused McCarthy of being out of touch with the Republican base.
"He needs to get out of the way of the America First movement and get on board with it, because we're the future of the GOP," Kent said.
The lawmakers who declined to participate had plenty of cover, since former President Trump did not endorse the rally, though he did release a statement on Thursday alleging that those charged in the Jan. 6 insurrection are "being persecuted so unfairly."
Some conservative groups had also warned, without evidence, that the event was actually an FBI sting operation designed to entrap Trump's staunchest allies — an idea that was rejected by those who did attend.
"In my opinion, all this talk of it being a set-up was just cowards trying to feel better about themselves for not showing up," said Balazek.
The protesters came to support the roughly 600 people charged in connection with the Capitol attack on Jan. 6, when a violent mob of Trump supporters breached Capitol security in an attempt to stop Congress from certifying President Biden's 2020 election win. Rioters ransacked the building, including lawmakers' offices, and clashed with Capitol Police.
One Capitol Police officer, Brian Sicknick, died one day after his altercations with rioters, and four others have died by suicide in the subsequent months.
It's unclear how many protesters attended Saturday's rally, and several members of the organizing group, Look Ahead America, declined to offer a guess when asked by a reporter. Yet the protesters seemed to be outnumbered by the hundreds of members of the media, the police and the counter-protesters who had gathered to heckle the pro-Trump demonstrators from the sidelines. Kent guessed the number of demonstrators to be about 300 while Capitol Police estimated the crowd to be between 400 and 450.
The number appeared to fall well below the expectations of organizers and law enforcement officials. Earlier this week, a Department of Homeland Security official said that around 700 people were expected.
There were some verbal showdowns between protesters and counterprotesters after the Justice for J6 rally ended today, but the police presence was such that they had the manpower to separate the parties as standoffs developed. pic.twitter.com/TZMEw3NSaz

— Ryan J. Reilly (@ryanjreilly) September 18, 2021
Lawmakers and law enforcement this week grew concerned that the protest could turn violent or raucous, and on Friday, Capitol Police Chief Tom Manger said that they had received knowledge of some threats of violence. Those, however, never materialized.
The protesters came dressed in American flag symbols, constitutional slogans and anti-BLM messages. One wore a coon-skin cap and a Daniel Boone flask. Another boasted a hat that said: "We the People Are Pissed Off." They waved flags — some traditional, some hand-made with messages like "Guilty of Loving America" — and carried signs that warned against the rise of a totalitarian state.
The music blaring in the background just before the event began also seemed to carry a political message: Billy Joel's "We Didn't Start the Fire."
Tensions flared on several occasions between protesters and counter-protesters, who marched around the grounds carrying signs of their own. One read "Loser." Another was more blunt: "F–k Proud Boys."
The quarrels prompted the police to intervene on at least one occasion, when a protester was whisked away. It was unclear if he was arrested.
Police move into to break up argument between opposing protesters. Police quickly remove one of the men as press swarm. @nbcwashington pic.twitter.com/pL58vnCh6i

— Mark Segraves (@SegravesNBC4) September 18, 2021
In another incident, a protester and a news reporter got into a shouting match over the role of the media on Jan. 6. Capitol Police also arrested four people, according to The Associated Press: one person had been carrying a knife; another was reported to be in possession of a handgun; and two from Texas had outstanding warrants for a firearms charge and probation violation. But there appeared to be no physical altercations or incidents of overt violence.
The security framework certainly discouraged it.
Behind the stage, Capitol Police had erected two layers of metal, bike-rack fencing — one more than they had used on Jan. 6 — and it was reinforced by racks placed perpendicular at intervals to brace the entire ladder-like structure.
Behind that fence stood scores of Capitol Police officers dressed in full body armor and holding riot shields. At one point, Manger was spotted walking among them, marching down the line as if inspecting his troops.
As a result, it was almost a sleepy scene immediately around the Capitol, where the roads were closed, the building itself was wrapped by an imposing, seven-foot fence, and Capitol Police were everywhere, including scores circulating on bikes and several on the Capitol roof gazing west towards the protest.
State troopers from Maryland and Virginia were on hand, and the U.S. Park Police had a number of horses, still in their trailers, resting in Upper Senate Park, just south of Union Station. Groups of foreign-speaking tourists were milling around, seemingly oblivious to the rally a short distance away.
Matt Braynard, the head of Look Ahead America and a former Trump aide, rejected the idea that the rally was designed to support anyone who committed acts of violence on Jan. 6. Those people, he said, should be tried and imprisoned.
But he argued fervently for the rights of those charged with non-violent crimes who are still being held, urging their immediate release. He also told the assembled crowd to respect the law enforcement officers patrolling the area.
"There are uniformed officers here who I demand that you respect, you're kind to, you're respectful to and you're obedient to. They're here to keep us safe. We're counting on them to do that," Braynard said, adding a similar request for treatment of the media.
"Justice for J6" rally organizer Matt Braynard: "There are uniformed officers here whom I demand you respect, you're kind to, you're respectful to and you're obedient to. They're here to keep us safe and we're counting on them to do that." pic.twitter.com/qhpg1K402k

— The Hill (@thehill) September 18, 2021
Braynard had made another request heading into the rally, asking participants not to bring clothing or paraphernalia promoting Trump or any other political figure — a request that was largely heeded by the crowd.
But just across Third Street, on the eastern edge of the Mall, a vendor was selling Trump hats and T-shirts. Business, it appeared, was brisk.
Via The Hill