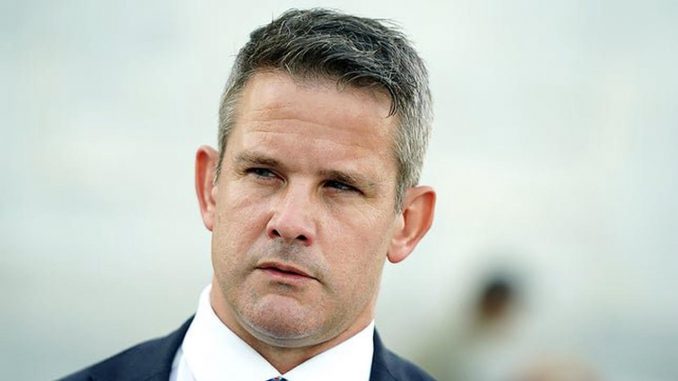 In a video statement posted to Twitter, Kinzinger weighed in on the fate of the GOP after Rep. Anthony Gonzalez (R-Ohio), who voted to impeach Trump for inciting the Jan. 6 attack on the U.S. Capitol, announced that he would not be running for reelection next year.
"A couple days ago, my friend Anthony Gonzales announced he won't run again, and now the pundits and politicos are discussing whether this means that Trump won," Kinzinger said.
"So, let me answer this question. Yes, as of now, Trump is winning," he continued. "Not because Anthony decided not to run but because so many in the Republican Party decided to stay silent."
The future of the GOP is on the many Republicans who have remained SILENT in the attack on our democracy. A video statement: pic.twitter.com/9KDwQmw6wt

— Adam Kinzinger (@AdamKinzinger) September 18, 2021
The comments from Kinzinger, a staunch critic of Trump who also voted for his impeachment, comes as the former president seeks to back primary challengers to those he sees as his enemies.
When Gonzalez announced his decision on Thursday, he stated that the "toxic" state of the Republican Party factored into this decision.
Trump had already backed his former aide Max Miller to replace Gonzalez. The former president has also endorsed challengers to other Republicans who voted to impeach him, such as Reps. Liz Cheney (Wyo.), Fred Upton (Mich.) and Jaime Herrera Beutler (Wash.).
Kinzinger said he and the other GOP lawmakers who voted to impeach Trump were "fulfilling their constitutional duty" but slammed his other colleagues for "lacking the courage to speak out while privately hoping for change."
The Illinois Republican also called for his remaining colleagues to speak out about whether they feel Trump still leads the party
"Ten of us voted to impeach Trump, 180 remain silent, and now it's their turn," Kinzinger said. "When we all publicly take sides, then we can answer the question, once and for all, whose party is this."