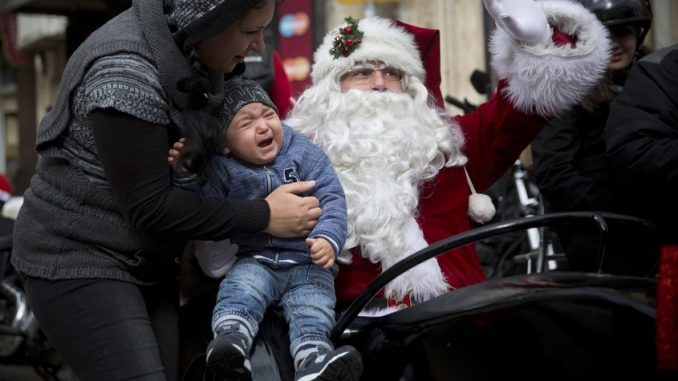 A nationwide worker shortage in the United States has reached the supply of Santas for this year's Christmas season. Some areas of the country are experiencing difficulty in hiring people to play the jolly old man.
A lot of the problem can be blamed on concerns about the coronavirus. Older, overweight men are at higher risk for COVID-19, though we are no longer facing peak numbers of cases of the virus. Most malls have filled their needs for Santa because they sign contracts months in advance but private parties and Christmas festivals are a different story. People who hire Santas are finding that the supply is low this year. Santa bookers report that this year is like no other they have experienced. High demand, short supply mean Santa is finding all the work he wants and is being well compensated for it.
In her 39 years booking Santas for holiday events, Susen Mesco says she hasn't had a year like this one.

Ms. Mesco has worked late nights and early mornings since September, fielding calls on average every eight minutes from clients desperate to secure a jolly, bearded man in a red suit for their holiday event. Never before, not even in the Christmas-party boom of the 1980s, has she had to turn customers away.

As president of American Events and Promotions and founder of a professional Santa school in Denver, Ms. Mesco says she currently has around 3,000 men in her Santa network. She also has 200 women and says Mrs. Claus is increasingly getting solo bookings. Early this year, she knew there was going to be a problem. Ordinarily she books 15 or 20 "Christmas in July" events. By late February, she says she had already booked 70.

The pace has only increased since October. Ms. Mesco said most weekends in late November and December booked up months ago. Of the 43 Santas she works with in Denver, they are all locked in from 8 a.m. until 9 p.m. every weekend until early January. She has fewer Santas overall this year.

Cost varies widely by event, location and date, she said, with some of her Santas in less populated areas earning $80 an hour and those in big cities earning several hundred. Her take is 10% to 15%. She said Santas are earning about 12% more this year.
There is increased demand this year as more Christmas parties are being held post-lockdowns and festivals coming back. In some situations, Mrs. Claus can take up the slack. Just like shoppers planning ahead and buying gifts early this year because of supply chain shortages, many organizations and private parties booked early. And they have to be flexible. Some visits from Santa had to be scheduled earlier than usual. Mrs. Claus is not so easy to find, either.
Maybe a Santa alternative doesn't try to be Santa at all. Maybe, like the plot of the 1974 stop-motion classic "The Year Without a Santa Claus," Mrs. Claus will come to the rescue. Connaghan has deployed Santa's wife in areas where no Santa can be found.

"She could come by and say, 'Well, Santa is so busy and everything, so he asked me to come by and see you, and I'm going to find out from all of you what you want for Christmas and take it back to him,' " he says.

But, she, too, is in short supply. Justin Raprager has been searching for a Mrs. Claus for weeks to staff his Odessa, Fla., family farm's winter festival. Of the 50 applications he has received, the vast majority have not responded to his follow-ups, and the few who did bailed on their interviews or came but couldn't commit to filling enough shifts.

It shouldn't be this hard, Raprager laments. It's a fun job, one that pays between $20 and $25 an hour, and the only duty is to sit on a chair and read books to kids. No experience necessary.

She "can't be sex offender, or have a criminal offense. They have to be nice, and they have to be able to read, and they have to like children. You know, that's the only requirements," he says. There are free lunches, and holiday bonuses. And yet.
The shortages are happening because of the health concerns involved and some shortages in areas are due to Santas moving to be closer to their families during the pandemic. Sadly, some died during the pandemic. Last year the malls that provided a Santa used precautions like keeping him behind plexiglass. This year that is being used less but mask policies remain in many locations. Like with everything else we've been doing during the pandemic, the key is to plan ahead when scheduling a visit to see Santa. And, be flexible. Virtual visits to Santa are possible, too.
Still a working Santa himself, Mr. Arnold has committed to at least 100 in-person events this season—many more than he did last year, and more than 2019 as well. In addition, he may do about 140 virtual visits this season. He says he wouldn't work an open party where some guests may be unvaccinated but he's also not requesting venues provide him a "snow globe"—a 10-foot see-through bubble where Santa is protected. He used one last year. Venues are asking if he needs one again, and he has declined.

Inside the globe, he doesn't feel "I can be as dramatic."
Snow globes. Virtual visits. It doesn't sound very Christmasy. The pandemic has changed our way of life in many ways and that includes visits with Santa – if you can find one.
Via      Hot Air