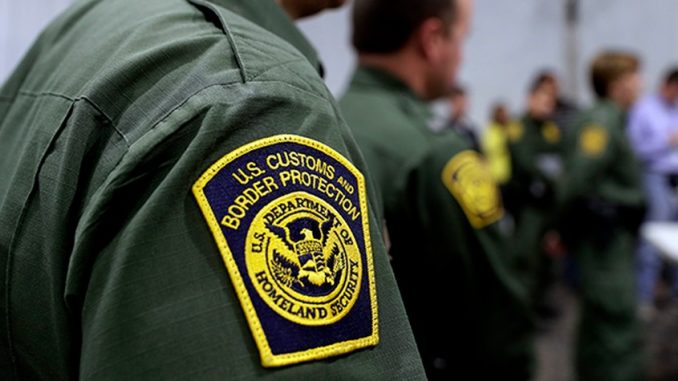 The deadline for federal employees to be vaccinated against COVID-19 is November 22. Federal employees who are not vaccinated, or obtain an exemption, by that date are subject to termination. It's hard to imagine a worse time to lose a substantial amount of border patrol agents than during the Biden Border Crisis.
Former chief operating officer of CBP from 2019 to 2021, Mark Morgan, obtained a document from a source inside CBP. The leaked document shows nearly half of CBP agents have not registered their COVID vaccination status and 10% of those who have registered have not received a shot. The federal mandate issued by Biden may result in the loss of over half of border patrol agents.
According to the document, as of October 25, 2021, 48% of border patrol agents have not responded to the reporting mandate. Of the 52% who had reported their vaccination status, 90% reported having received one or more COVID-19 jabs.

CBP laid out three scenarios regarding the officers who have yet to report their status. The vaccine mandate may not increase attrition from Fiscal Year 2021 levels (scenario 1), in which case the agency would lose about 1,130 agents, dropping the force of 19,536 to 18,403. Alternately, agents who have not yet responded will have gotten vaccinated at the same rate as those who have responded (scenario 2), so the agency would lose 3,084 agents, leaving the force with 16,452 agents.

In the worst-case scenario, agents who have not reported their status have done so because they refuse to take the jab, and so they will be terminated (scenario 3). In that case, net attrition could exceed 11,523 agents, leaving a mere 8,013 border agents on patrol.

In other words, the vaccine mandate and the normal rate of attrition could cost CBP a whopping 59% of its border patrol agents – in the middle of a border crisis.
So, here we are. Today is November 11. That leaves eleven days for border patrol agents to fulfill the mandate. Protection and law enforcement at our borders is no small task. It's crucial for national security and right now there are hundreds of thousands of people illegally entering our country. Drug cartels and human traffickers are cashing in on our porous southern border. Business has never been better for them.
Last week @CBP Officers at the Port of #Nogales seized approximately 28,000 fentanyl tablets concealed within vehicle compartments-est. value $86K. Excellent work CBP Nogales Officers! Thank you for protecting the American people!🇺🇸 pic.twitter.com/EHYFazlux5

— Port Director Michael W. Humphries (@CBPPortDirNOG) November 9, 2021
One thing the Biden administration is doing to get the CBP numbers up is to pressure supervisors to comply with the vaccine mandate or they may lose their own jobs.
"Pursuant to this requirement, all U.S. Customs and Border Protection (CBP) supervisors are ordered to have a discussion with each of their employees (direct reports)," the email says.

During those discussions, supervisors are ordered to tell employees to upload their vaccination status and documentation by Nov. 8, and that failing to do so will have consequences of non-compliance. They are also to tell employees that they must receive their final vaccination shot by Nov. 8 to be fully vaccinated by the deadline.

"Supervisors who fail to have the required discussions with their employees will be subject to potential discipline for insubordination, up to removal from federal service," the email says.

The email includes "discussion points" and a discussion log that supervisors are required to submit.
If CBP employees do not comply, they will be suspended and the termination process will begin. Agents are sent multiple emails a day about the mandate, including videos of CBP and Homeland Security employees who have been affected by COVID.
Reporting by Free Beacon today says that one in five staff members of CBP hasn't received a vaccine. 18% of staffers missed the November 8 mark.
Nearly one in five staff members at Customs and Border Protection have not received a COVID-19 vaccine, putting thousands of the agency's employees in line for termination as the Biden administration struggles to secure the border.

About 18 percent of the CBP workforce were not inoculated by Nov. 8, meaning about 12,000 employees risk losing their jobs if they do not receive a religious or medical exemption by Nov. 22, according to internal documents reviewed by the Washington Free Beacon. The Office of Personnel Management said federal agencies may impose disciplinary action, such as suspension or termination, against unvaccinated employees after Nov. 9.
DHS remains hopeful that the mandate will be met, according to internal emails. Perhaps the department thinks that confirmations of vaccination will come in at the last minute. Reporting has been voluntary. The actual number of those vaccinated may be underreported. A sudden loss of staff will add stress to an already out of control situation on the southern border.
Congressional Democrats are looking at steep budget cuts to CBP . A Senate appropriations bill in October allocated less than the current funding for the fiscal year 2022 – even less than Biden requested. The defund ICE progressives are being appeased. It looks like the consequences of Biden's federal mandate will assist in their efforts.
Via      Hot Air