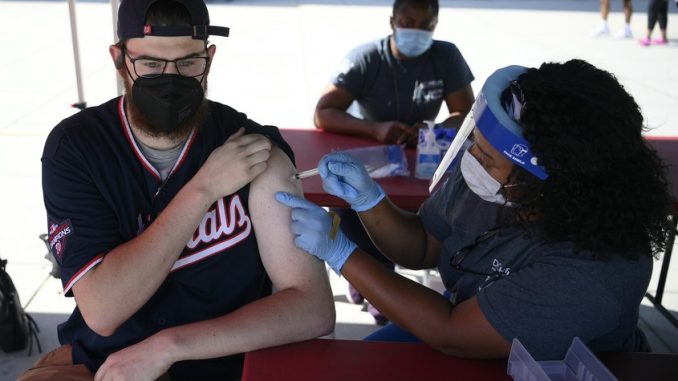 It was announced by the Labor Department this week that the Federal Register will be publishing the final details of Joe Biden's vaccine mandate for employers with more than 100 employees. This was done after the Office of Management and Budget completed its mandatory review of the new rule this morning. The rule is expected to impact more than 100 million employees nationwide. It's being referred to as an "Emergency Temporary Standard," assuming you believe anything they have to say at this point. Of course, the options being offered to the non-government employers are different than those in some, but not all parts of the government. That shouldn't come as any surprise, because consistency hasn't exactly been the watchword for federal government COVID policies from the beginning and they continue to shift to this day. This process didn't begin until after Biden announced the upcoming rule in September, so this entire scheme that will affect up to a third of the people in the country was put together, reviewed, and moved forward in a matter of six weeks. I'm sure you're all just brimming with confidence already. (CNN)
"On November 1, the Office of Management and Budget completed its regulatory review of the emergency temporary standard. The Federal Register will publish the emergency temporary standard in the coming days," a Labor Department spokesman said. "The Occupational Safety and Health Administration has been working expeditiously to develop an emergency temporary standard that covers employers with 100 or more employees, firm- or company-wide, and provides options for compliance."

The spokesman added, "Covered employers must develop, implement, and enforce a mandatory COVID-19 vaccination policy, unless they adopt a policy requiring employees to choose either to get vaccinated or to undergo regular COVID-19 testing and wear a face covering at work. The ETS also requires employers to provide paid time to workers to get vaccinated and paid sick leave to recover from any side effects."

In September, Biden announced the Labor Department would draft an emergency rule compelling private companies with 100 or more employees to require vaccinations or weekly testing.
The first thing to note is that this rule will offer employers the option to make vaccinations mandatory. But it's an option. They can also choose to allow their employees to submit to weekly COVID testing and wear a face mask on the job. This is an option that is not offered to (most) federal workers nor is it offered to the military.
So why is that important? Because this is all allegedly being done to combat an emergency and to save the lives of Americans, right? The word "emergency" is right there in the description of the rule. But you can't have it both ways. Either weekly testing and masks are good enough to combat the spread of the disease or they aren't. If the "medical experts" at the White House don't think weekly testing is good enough, why is it being offered as an option to private employers who deal with far more employees than the federal government and the military combined?
And if it is good enough, why isn't that option being offered to the federal workers, not to mention all of the police, firefighters and EMTs around the country who are being forced to comply by mayors and governors who are allegedly only doing it because the federal government ordered it? There is no consistency here and it puts the lie to the idea that all of this pandemic theater is a matter of life or death and requires everyone's compliance.
And not for nothing, but I'll just add in here your periodic reminder that the more than half a million federal workers at the United States Postal Service are not being required to get a shot and don't even have to submit COVID test results. I've yet to see our regular mail carrier wearing a mask, not that it bothers me. They are just "strongly encouraged" to get vaccinated. But if you work for an employer with more than 100 workers, even if that employer isn't even remotely associated with the federal government, you may be forced to comply or you will be unemployed.
The rule also includes a demand that employers not only offer paid time off to get vaccinated but pay for any recovery time you require if you experience bad side effects from the shots. Ask yourself a couple of questions about that. When was the last time your employer offered you paid time off to get a flu shot? Were you allowed to take time off if you had side effects from that? Of course you weren't. You had to use your own sick days if that happened or just suck it up and deal with it yourself.
The other point I wanted to make is that this rule is, as I noted above, being classified as an Emergency Temporary Standard. But just how "temporary" do you believe it's really going to be? Power is a very addictive drug and once you let some of these jokers get a taste of it for a while, you'll generally need some dynamite and the jaws of life to get it away from them.
This is all just nonsense. It's the abuse of power for power's sake and the Biden administration can't even follow its own supposed rules when making policy. The fact that this mandate is being applied so unevenly across the population of the United States demonstrates that they are treating it as a joke, albeit a very unfunny one. And we shouldn't take it any more seriously than they are.
Via      Hot Air